Economy - Seller's Kiosk
R.O.H.A.N.: Blood Feud allows you to set up your personal Seller's Kiosk anywhere at any time. You can make a higher profit by selling desirable items at attractive prices.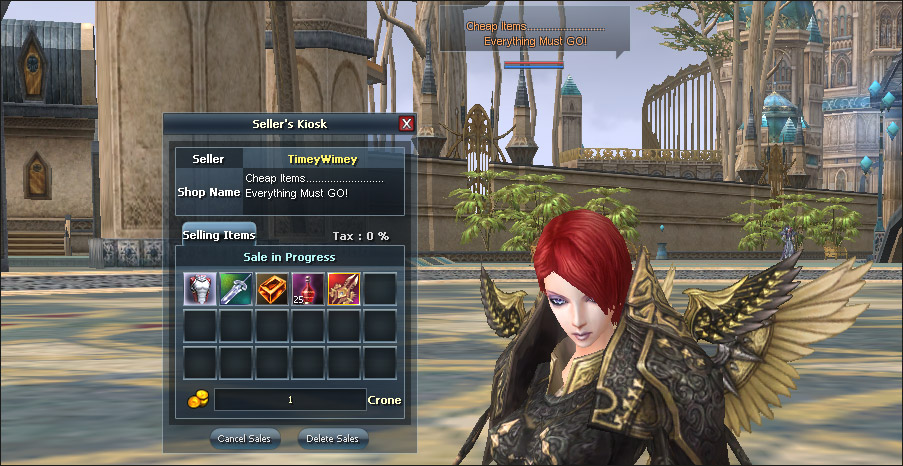 Setting Up Seller's Kiosks
Seller's Kiosks can be set up anywhere including towns and dungeons by clicking Set Up Seller's Kiosk in the Basic Actions menu (N)
Enter the kiosk name and drag the item you wish to sell from your Inventory.
Enter an appropriate price and press Begin Sale to activate your kiosk.
If you want to remove any products from the sale, select the item and click Delete Sale to return the item to the Inventory
Characters having set up a kiosk can only engage in chats. Note setting up a kiosk in a region other than Safe Zones may invite attacks from monsters or other players. Seller's Kiosks will be canceled automatically if attacks are sustained.
Searching Seller's Kiosk
Use Menu > Search Seller's Kiosk (F) to search products for sale.
Enter the name of the item or a key word to be searched. The seller, kiosk location, and price will be retrieved.
Only kiosks currently logged in will be included in the search.
Consignment
If you want to open a Seller's Kiosk but can't compromise level-ups, engaging in consignment sales via NPCs is a wise option. Entrust the item you want to sell to the Consignment Shop NPC and designate the price, and a sales notification will arrive while you're hunting. If the item you've consigned is sold, the corresponding item can be redeemed by visiting the NPC again. Note a consignment fee applies.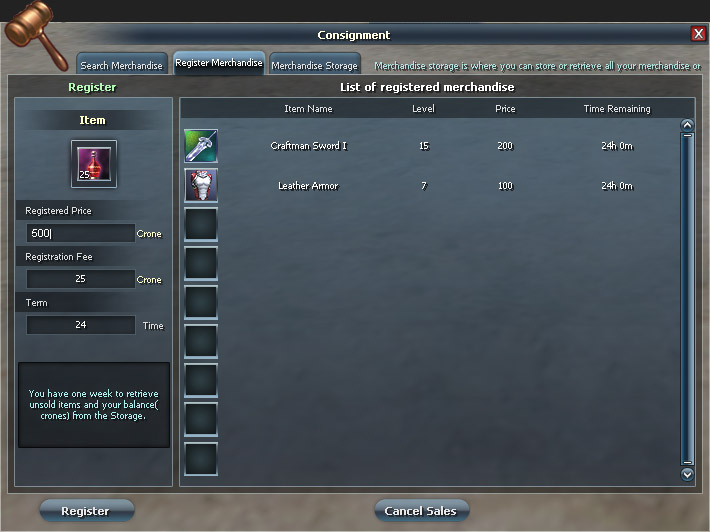 Registering Items for Consignment Sales
Sell items you want via Consignment Sales NPCs located in each town.
Select List Item and drag the item you want to sell from your Inventory and enter the sale price.
Consignment sales fee of 5% of the sale price is automatically entered.
Sale period is limited to 24 hours and cannot be adjusted manually.
Each character can list up to 30 sale items, and pressing Cancel Sales after listing an item cancels the sale. Items for which sales have been canceled are stored in Storage.
If listed products are sold Sale Complete messages appear in the chat window and crones equal to the sale price are stored in Storage.
If sale period has expired without the item being sold, a message indicating the expiration will be generated in the chat window and the unsold item is automatically stored in Storage.
Items and crones stored in Storage not redeemed within 7 days are automatically deleted.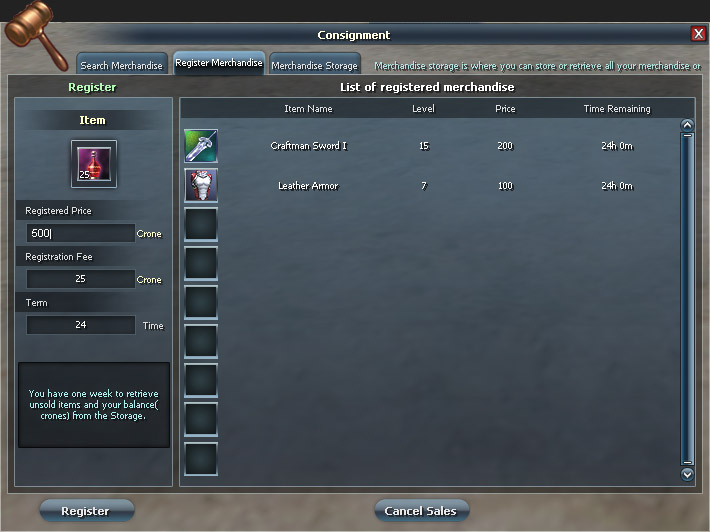 Purchasing Products via Consignment Sales
Search for the item you want to purchase by item name, seller's name, item level, item rank and type via Product Search.
Purchased items are automatically transferred to your Inventory from Storage where it is stored for 7 days.
Bank
Items can be shared or transferred among your characters via Treasuries. Treasuries in major cities of each race can be used for luxury items you cannot wear or to allow a different character in your account to use an item. Visit Treasurer NPC who can store up to 56 items transferable among characters in a single account.